BPE Amstel EV Charger – premium features, as standard
The new Amstel EV Charger from BPE includes premium features, without the premium cost
Amstel is available as a 7.4kW charger, with socket or with a 6 metre tethered lead (both 'type 2'). It comes with two snap on covers, so you can change the colour to suit, and the tethered version has an integrated socket holster.
Load control and dynamic load balancing
The 7.4kW maximum output of this charger can also be fixed to lower maximum outputs using an internal rotary dial. The rotary dial limits the maximum output to 6A, 12A, 20A, and 25A, if the maximum of 32A is not required. Amstel also comes as standard with a Dynamic Load Balancing box and a split core Current Transformer, this setup monitors the maximum load at the premises, and adapts the EV Charger output dynamically, to ensure the main ESB supply is not exceeded.
A lot of homes in Ireland have a 63A maximum supply from ESB Networks, using a 32A/7.4kW electric vehicle charger without any dynamic load balancing may result in only ~31 amps (A) capacity to run the rest of the appliances in the property. For example, an electric shower at 37 amps (or more), running this with a 32 amp EV charger would mean the premises exceed the maximum supply from the electricity grid. The Dynamic Load Balancing box monitors the overall consumption in the premises, and modulates the output of the EV charger to ensure the maximum capacity is not exceeded.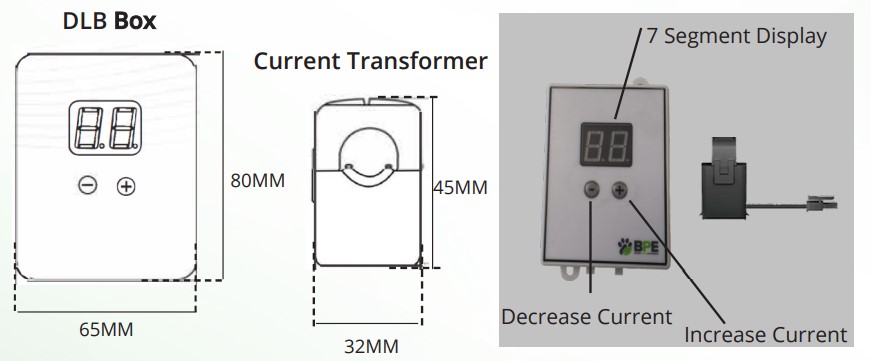 Controlling access
Amstel has an integrated 'RFID' card reader, the owner can decide to activate or deactivate this reader. Once the card reader is activated the EV charger will only operate once an authorised card is tapped against it. Cards are included. When the card reader is deactivated, the EV charger will operate in 'auto start' mode, the charger will then activate as soon as someone plugs in.
Safety
This EV Charger meets all EU and UK safety standards, in addition to AC and DC sensitive over-current protection and over-voltage protection, it has an integrated isolator (emergency shutdown) and test button. The unit is rated to IP65, and can operate in all expected temperatures. To operate in harsher environments, Amstel is also corrosion resistant and tested in sea salt spray conditions.
Ease of installation and use
The manufacturers have developed this EV charger with both the user and installer in mind. No complicated apps, Bluetooth, or Wi-Fi is required to setup any of the load balancing or access features – setup is via simple dip switches or a rotary dial. The display feature of the Dynamic Load Balancing box also eliminates any complicated programming. The unit can be wall or pole mounted, and cable entry is possible via top, bottom and rear. A large attractive LED light allows a user to quickly determine the status of the charger, even from a distance.