EV Charging Milestone
Rexel Ireland partner, EV-Box, now has 50,000 electric vehicle charging points installed worldwide.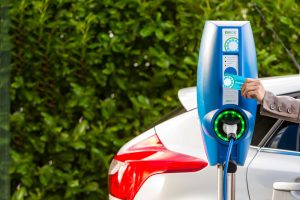 EVBox, leading global manufacturer of electric vehicle charging stations and charging management software, reaches milestone of 50.000 installed charging points worldwide. Number 50,000 was installed at the Los Angeles Cleantech Incubator (LACI) in LA, California.
In 2016, electric cars surpassed the two million mark worldwide, with an impressive 43% growth in EV sales in the US alone. With battery prices dropping, and with new long-range electric vehicle models being released monthly, EVs are becoming widely available to all.
"With this rising demand for electric cars, comes also the shared responsibility to provide a good electric infrastructure. From our Manifesto of Electric Mobility we know that 55% of electric drivers in the US ask for a wider availability of charging stations. Together with passionate partners such as LACI we can give electric drivers the driving experience they expect and deserve. Hitting the 50,000 mark is a direct result of that ambition, which we are all extremely proud of." says Kristof Vereenooghe, CEO of EVBox.
With the 50,000th installation, EVBox now supports electric drivers' needs in thirty different countries worldwide. Vereenooghe continues: "We see this alarming trend of record heatwaves and melting glaciers. Meanwhile we are experiencing an ever-increasing consumer demand for electric vehicles and our charging stations. Large scale adoption of electric vehicles is going to happen and it's our mission to drive sustainable mobility by bringing leading electric vehicle solutions to the world." EVBox is actively expanding its US and global based workforce to support the record setting adoption of electric vehicles. Vereenooghe adds: "We achieved 50,000 charging points in less than seven years and we plan on achieving the next 50,000 in less than two years."
---
About EVBox
EVBox is the leading global manufacturer of electric vehicle charging stations and charging management software. With an installed base of 50,000 charging points across more than 980 cities worldwide, EVBox drives sustainable mobility, by bringing durable electric vehicle charging solutions to the world.
Get in touch with us to discuss the range of Electric Vehicle Charging solutions EV-Box has to offer.