EVBox Charge – pay as you go EV charging
EVBox launches new app to enable credit card payments at EVBox charging stations
EVBox, leading manufacturer of smart and scalable charging stations, introduces its new charging management app—EVBox Charge—which enables EV drivers to pay with their credit card at charging stations managed by EVBox.
With the exponential growth of the electric vehicle (EV) market, customers and future EV drivers need a reliable and hassle-free way to charge their EVs. For companies looking to set up electric vehicle charging at their locations, it can sometimes be hard to select the right combination of hardware, software, and field services as they are still considered stand-alone-offerings. As one of the global leaders in EV charging, EVBox is making customers' lives easier with its integrated solutions.
To give customers and partners the best possible EV charging experience, EVBox is bundling all components and offers into an all-in-one solution—including EV charging stations, charging management software (powered by Everon), and eMobility services. With this offering, customers and partners will benefit from EVBox's extensive support program that includes technical trainings, 24/7 customer support, and more. All available via Rexel branches of Kellihers Electrical and CT Electric.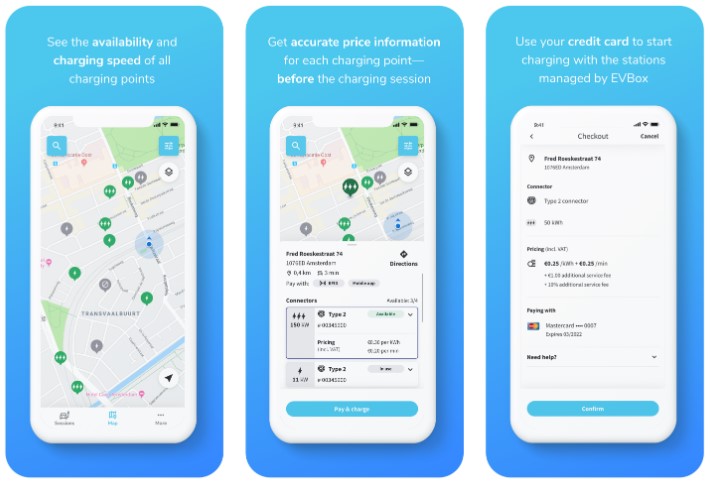 Introducing credit card payment options for EV drivers
EVBox is introducing the new charging management app—EVBox Charge—created for station owners that want to enable any driver to pay with ad hoc credit card payments at their charging locations. This means that drivers can charge their EV without needing a dedicated or public charge card when using a station managed by EVBox—they can just download the EVBox Charge App, add their credit card and start charging instantly. Drivers will receive accurate price information before their charging session and will be able to pay with their credit card (VISA and Mastercard). With an EVBox charge card drivers can access more than 120,000 public charging points in Europe. The app is available in both Apple Store and Google Play and this new payment option will be available throughout Europe.