In partnership with Suntech
Suntech and Rexel Ireland enter into a distribution agreement for Solar PV modules
A new distribution agreement between Rexel Ireland and Suntech will lead to the availability of high wattage PV panels across all 23 branches of Kellihers Electrical and CT Electric.                                 
Damien Phillips, Country Manager of Rexel Energy Solutions commented, "To ensure we provide the highest quality products and service to our customers, we promote Tier-1 manufacturers from across the PV industry. Suntech is known for its leading modules with high conversion efficiency, high yield efficiency, and high reliability. Our cooperation will further promote new developments in the Irish PV Market, particularly linked to their higher wattage PV panels."
Mr. Vincent Cao, Vice President of Suntech said, "Suntech occupies a high market share of the global PV market and provides PV products to more than 100 countries, spanning 20 years. We sincerely welcome distributors who have the same business philosophy, and want to establish a long-term partnership. We look forward to working with Rexel Ireland to jointly promote the development of green energy in the Irish PV market."
Ultra V Mini
Initial cooperation between Rexel and Suntech will focus on the residential market, and particularly Suntech's 'Ultra V Mini' range of full black PV panels, up to 410w. The Ultra V Mini has a footprint of only 1724mm x 1134mm, and an output of up to 410w per panel, allowing homeowners to maximise their rooftop potential.
Ultra V Mini comes with a 15 year product warranty and 25 year performance warranty. The performance warranty is backed by Munich RE.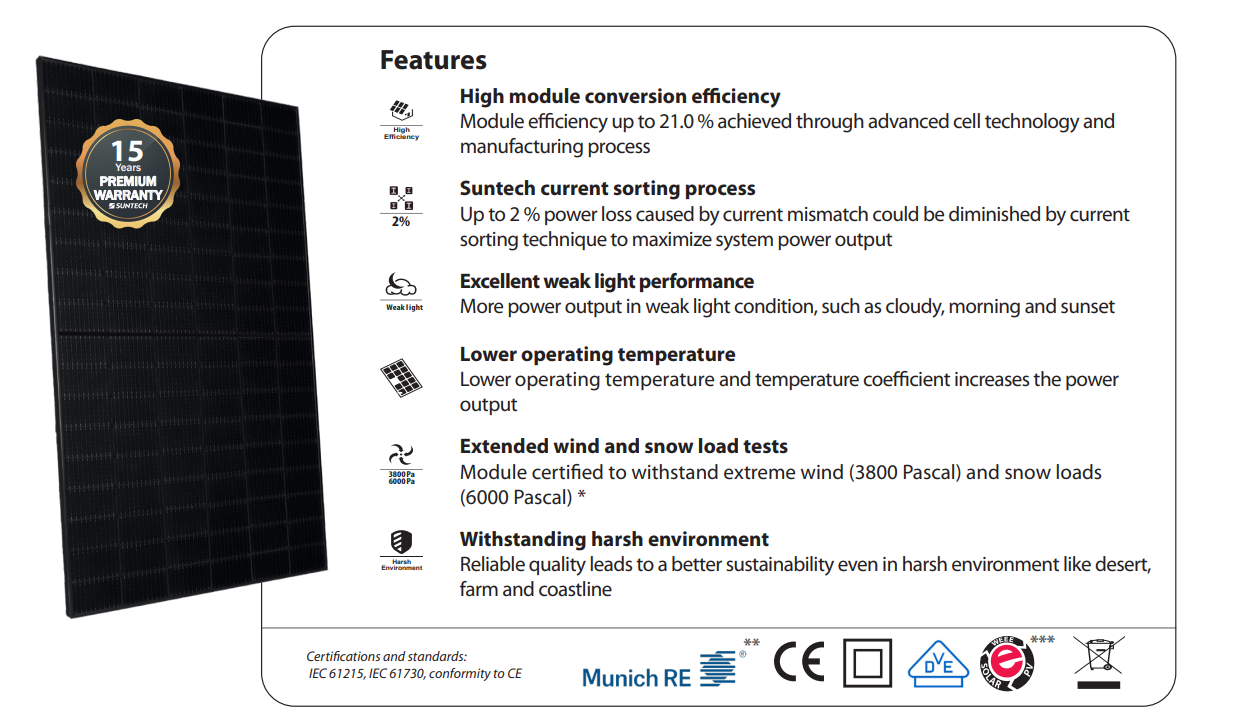 Rexel, a global leader in the professional distribution of electrical products, operates via the Rexel Ireland branch network – Kellihers Electrical and CT Electric – Ireland's largest electrical distributor. Rexel Energy Solutions is the specialist renewable energy division of Rexel Ireland.
Suntech is active in over 100 countries, and is regularly in the Top 10 manufacturers by annual PV panel production. Bloomberg New Energy Finance (BNEF) ranks Suntech as a Tier 1 manufacturer, and they are ranked as a 'Top Performer' in the 2020 PV Module Reliability Scorecard (and in each of the preceding four years) published by PVEL. Suntech has also been awarded the "Top Brand PV" seal by EuPD Research for the sixth consecutive year. The "Top Brand PV seal" award is rated by EuPD Research in accordance with the Global PV Installer Monitor survey covering hundreds of installers worldwide – it highlights the best-in-class companies from an installers perspective on a country and regional level.