Solar Mounting Systems on Trapezoidal Roofs
Guest article by Nicholas Chapman of Valk Solar
Trapezoidal roof sheeting is an efficient and cost-effective roof covering material most commonly used on roofs over 5 degrees pitch. This makes it a common roof covering for large/commercial properties such as warehouses, factories, distribution centres and more. With the combination of large, often un-obstructed areas, and existing roof tilt/pitch it makes trapezoidal roofs a great option for Solar PV whether the focus is export or self-consumption.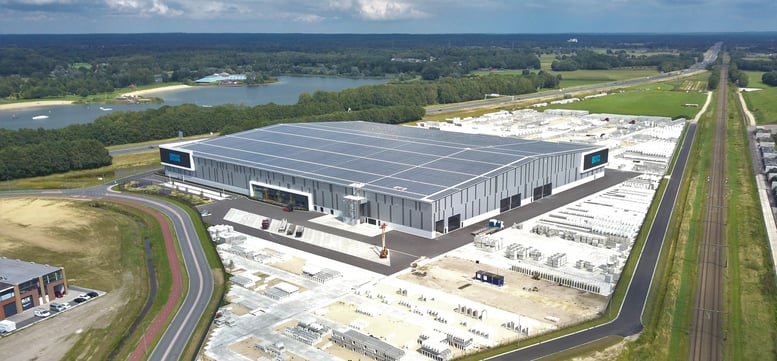 How are panels mounted to this roof type?
For trapezoidal mounting systems the most common and cost-effective solution is to secure short rail lengths, normally aluminium, directly to the roof surface with thin sheet screws or rivets then place the panels directly on these rails and hold them in place with the use of panel clamps. There are other solutions available that do not require panel clamps and instead use insert profiles. This option involves the use of long profile lengths with an in-built channel/slot the exact same size as the module frame thickness so the module can slide inside the rail. These long rails are also secured directly to the roof sheeting.
Considerations for PV installation on trapezoidal roofs
Water tightness. The first and most obvious consideration is water proofing as any building owners want peace of mind that they won't have a leaky roof. For this reason, it is common practice for thin sheet screws or rivets to include a neoprene or EPDM washer to create a water tight seal around the roof penetration. For clamp type systems the short rails lengths also often include some kind of waterproofing layer on the underside.
Sheet thickness. The thickness of trapezoidal sheets can vary greatly but often sit between 0.5 and 1mm, however there are some sheets on the market now which are <0.5mm. The pull-out strength of the fixings required will change with the thickness of the sheeting; for example, as thin sheet screw will have a higher pull out force on a sheet that is 1mm thick compared to 0.5mm thick. This can impact on the number of fixations required to make a system safe against extreme wind forces so correct information is critical.
Panel orientation. As with any PV project the decision to place the modules in portrait or landscape orientation can be influenced by many factors such as; system performance, roof tilt/pitch, roof orientation or roof obstructions. However, when using the most common 'clamp' type systems, the mounting system cost can be significantly affected by the panel orientation because it determines the length of the profile required. Panels in portrait mean the profiles run horizontally and therefore span the distance between the crowns of the trapezoidal sheeting. So, when the crowns are 333mm apart for example your profile needs to be slightly longer than this. However, when placing panels in landscape your profiles can run vertically up the length of the crown and therefore is not affected by the crown spacing and means a very short profile can always be used. The shorter the profile the cheaper the system becomes, hence why landscape orientation is the cheapest option from a mounting system perspective.
Realizing your project with Van der Valk Solar Systems
Valk Solar Systems offers a full range of pitched roof mounting systems including both insert and clamp type solar framing solutions. These projects can be calculated using our free PV calculation software; ValkPVPlanner, with portrait or landscape orientation available. Our projects team is happy to assist with large projects of those that require a special calculation or bespoke solution.
Hopefully, this blog has given more clarity about the installation of PV mounting systems on trapezoidal roofs. There is much more to tell about different situations and solutions, if you would like to discuss this further with us, you are more than welcome for a training/tour of our factory or a no-obligation conversation with one of our specialists. You can contact us via: sales@valksolarsystems.co.uk or +44 (0)1304 897 658.